OUTSMART FEATURES
Features
Digitalise your organisation with OutSmart's features and ensure seamless coordination between your indoor and outdoor teams.
Curious about how the features work?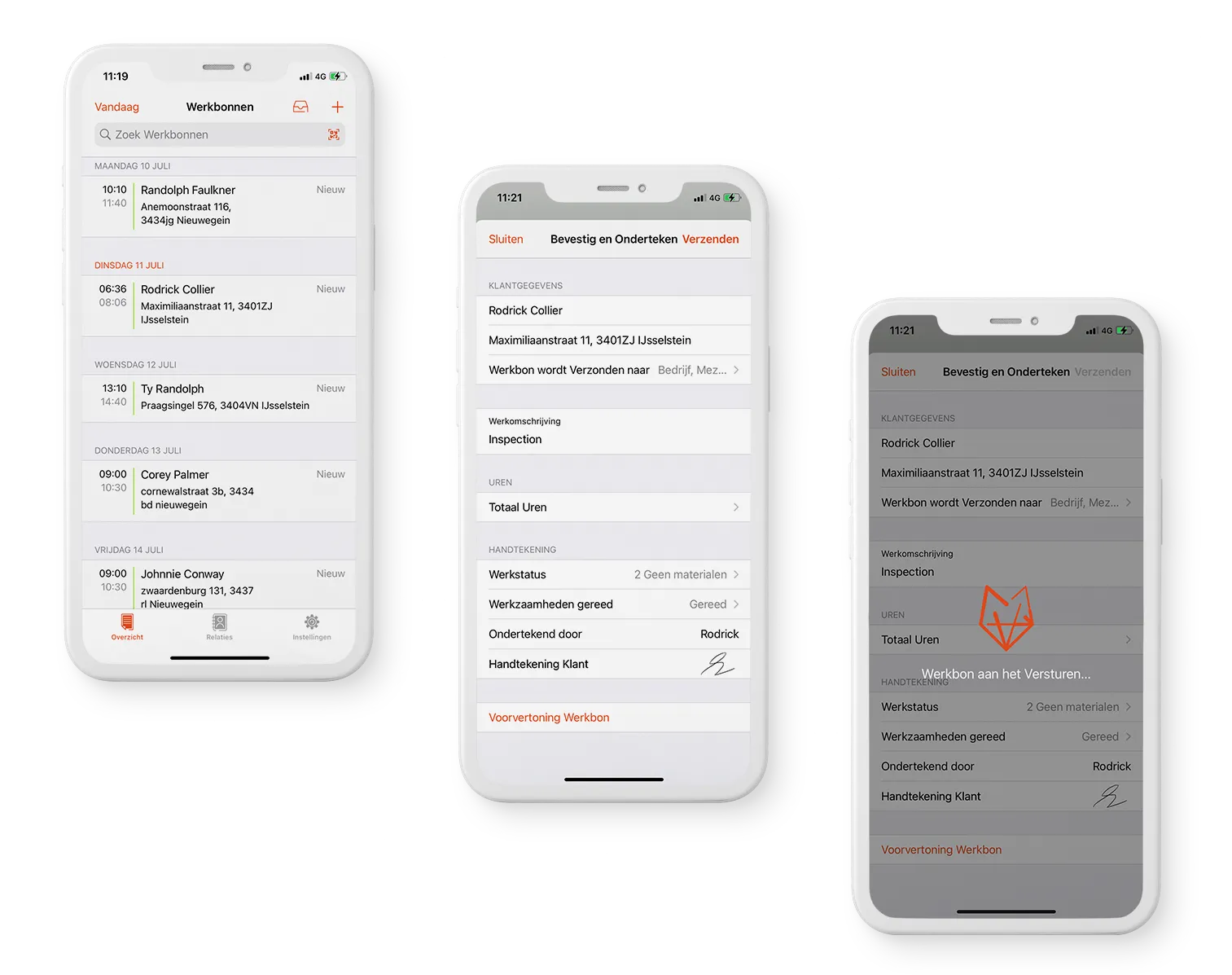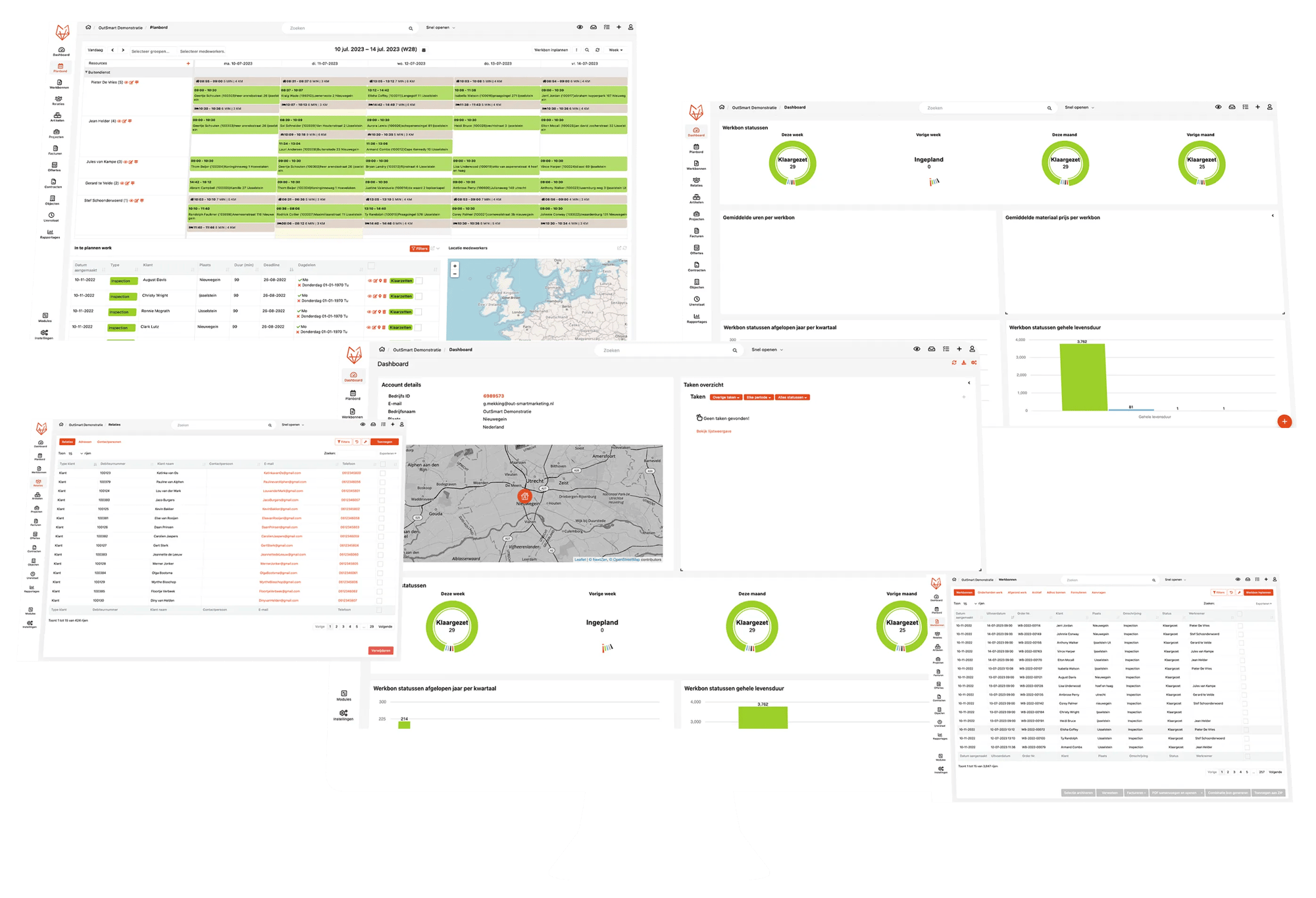 POWERFUL FEATURES
These are the key features of OutSmart
DIGITAL WORK ORDERS
The core of OutSmart: digital work orders. Say goodbye to paper work orders and switch to the digital version. No more illegible, lost, or late submissions.
DIGITAL PLANNING BOARD
Drag jobs to one of the employees on the scheduling board and get a complete overview of your staff. See in real-time where your field personnel are on a map.
PLANSMART
Easily manage your field personnel with just a few clicks using PlanSmart and let it automatically generate the most optimal routes. Save time, money, and fuel costs!
CRM
Maintain an overview of all your customers in the CRM. Keep customer data, completed work orders, and notes for each customer.
INVENTORY MANAGEMENT
Select the materials used for each job effortlessly. Add them to the work order so both you and the customer know exactly what and how much was used.
INTEGRATIONS
Already using an accounting or ERP system to digitize your administrative processes? No problem! Easily integrate your system with OutSmart.
QUOTES
Create customized quotes quickly with the quotes feature. Have the quote signed online and convert it directly into a work order.
INVOICES
Job completed? Send the invoice right after digitally signing the work order. Get paid faster. You can even allow customers to pay directly through the app.
FORMS
Easily create forms that can be used as checklists or questionnaires for each job. Various types of questions are possible, such as dropdowns, radio buttons, open-ended questions, and checkboxes.
TEMPLATES
Frequently send the same type of emails, SMS messages, quotes, or invoices? Set up standard templates once. This way, you don't have to create the same email, quote, or SMS every time.
AUTOMATIONS
Automate many of your daily manual tasks. Work order completed? Send an email to the customer, archive the work order, and set up a reminder for a check-up in six months.
ASSET MANAGEMENT
Multiple installations (assets) for the same customer? Manage them all individually and build a history of work orders per asset.
CUSTOMER PORTAL
Offer your customers their own portal where they can request service for their installations. You can also provide them with access to all information about the installation, including (outstanding) invoices.
CONTRACTS
Easily record agreements between you and your customers. Both parties will know what has been agreed upon, even in the case of unexpected issues. Contracts help you monitor your agreements and can even schedule orders automatically.
AD-HOC SCHEDULING
Jobs that don't need immediate attention can be placed on the map for later pickup when a field worker is nearby.
WORKFLOWS
Ensure that all field workers fill out work orders in exactly the same way with a predefined workflow. This way, you always receive the right information.
WAREHOUSES
Create (sub)warehouses and keep track of your product inventory levels. All changes are recorded, and you'll receive notifications when inventory falls below a certain level.
REPORTING
Automatically generate personalized reports and stay informed about all aspects of your business.
KOUDSMART (module)
A special module for refrigeration technicians. Ensure compliance with strict regulations and maintain a balanced refrigerant inventory.
CRM PLUS (module)
Expand the standard CRM functionalities of your package with the CRM Plus module. This provides you with a comprehensive overview of all your work orders, quotes, and invoices in one place.
Curious about all the features of OutSmart?
The OutSmart system is a collection of features designed to assist you in digitizing and optimizing your business processes. These features are offered to you in various packages.
Experience all these features in one platform