DIGITAL PLANNING
Digital planning board: overview in your planning
As a field planner, do you have a confusing puzzle with a jumble of comments, ifs and buts in the margin every day, week or month? A digital planning board helps you keep an overview at all times and makes a clear schedule that everyone can understand at a glance. The digital planning board is one of OutSmart's many handy features.

Even more good news: you can test OutSmart's digital plan board right away. It costs nothing and you will immediately have the answer to whether a digital plan board is for you and your organisation.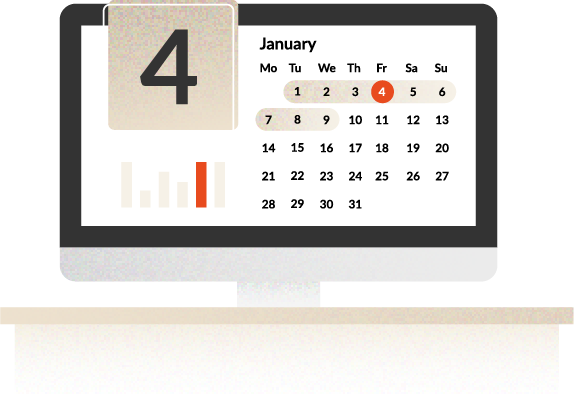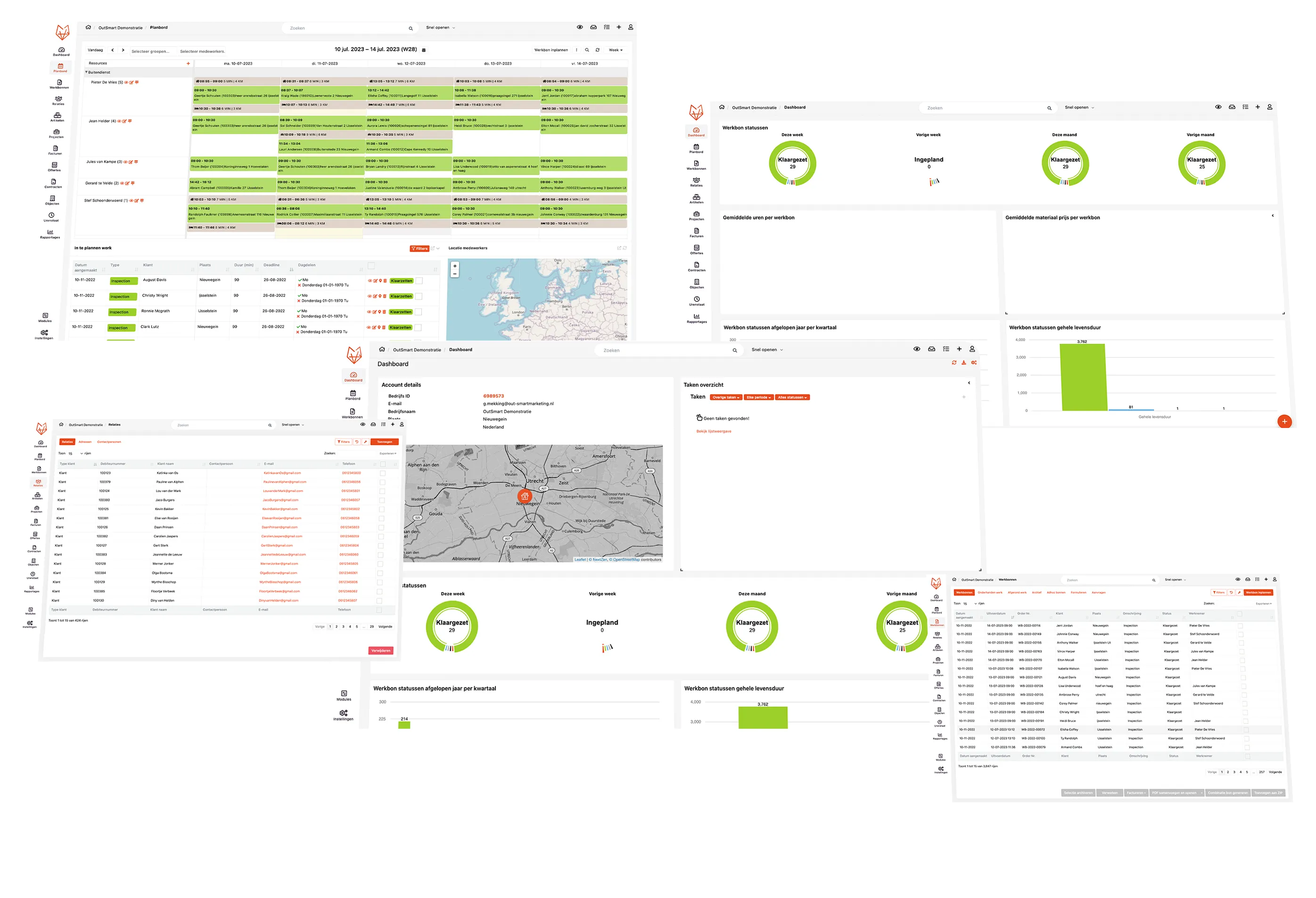 POWERFUL FEATURES
Key benefits of OutSmart's digital planning board
Real-time planning
Your field staff can use the digital planning board to view the planning created by your planners inside in real time. So they are immediately aware of any change in the planning. This also applies to last-minute changes. Is a job running late? Then the office staff can immediately reschedule.
(Much) fewer call minutes
Your office staff can adjust the planning at any time and do not have to inform the field staff by phone. The change appears directly on the phone or tablet of your field staff. This saves a lot of phone minutes between your planners and your field staff.
Free trial
If you want, you can get free access to our software today and start using our digital planning board straight away. Because we believe in OutSmart and we would love to convince you. To do that, we will let you use our software for free.
How do you plan your field service?
Companies with a field service have to deal with it all the time: all field service employees have to be rescheduled every week or month. This is always a chore, as projects come and go and each employee has different strengths that you want to make the best use of.

Perhaps instead of a digital planning board, you now use Excel or some other simple way that has worked until now. But as your workforce grows and so does the number of projects, your simple planning method becomes cluttered. OutSmart's digital planning board is partly based on an old-fashioned planning board (magnetic) which used to be commonly used. Only now the possibilities are much more extensive and up-to-date.

A digital planning board allows you to plan your staff and projects in a clear and flexible manner. You always know which of your field staff is where and can see exactly which space is left in the planning for an urgent job, for example. Both planner and field staff find this very pleasant. In the end, time and work are handled more efficiently and effectively. It also saves frustration and confusion.
Have your field service and your office staff work together flawlessly
With a digital planning board that can be viewed in real time by both your back office and field service, the cooperation between your back office and field service is extremely streamlined. Your planner does not have to call the field service if he makes a last-minute change. Nor does your field service employee have to contact the office in case of such a change, as he can immediately see all the information for the job he is scheduled for in the app. All additional information and documents about and for the visit can be easily noted, tracked and processed.

When a job is completed, the field worker fills in his work order in the app, adds photos of his work and gets the customer to sign for approval in the app. He then returns the voucher directly to the office. At the office, the completed work order is converted into an invoice at the touch of a button. Our invoicing software then makes sure that the invoice is sent directly to the customer, without employee intervention. A clear win-win situation.
A digital plan board, how does it work?
The name says it all: with a digital plan board, you create a digital project planning and personnel planning. You can choose how you design the digital plan board. In any case, you can view several staff schedules side by side. So you can see at a glance who still has time for a small job in the afternoon next Thursday, for example, or if appointments need to be rescheduled at short notice, you can determine exactly which field staff member will be able to do so.
Get 1-on-1 explanation in a demo
Really explaining how a digital planning board works is not so useful in a text, it is better to see it in real life. Follow a free demo with us, in which we will show you around OutSmart in a 1-on-1 session. You can tailor the demo to your situation.

So if you want to know more about OutSmart's digital planning board, we'll show you. If you have questions about another part of OutSmart, we will explain that part.
Choice between a simple online plan board and a comprehensive graphical plan board
OutSmart's software offers you, among other things, a digital plan board. Many companies at home and abroad choose OutSmart's digital planning board as a tool for their staff planning and project planning.

We give you a choice of three different packages: Basic, Team and Pro. Depending on the package you use, you will have access to a simple planning board or an extensive graphic planning board. Our personal favourite: timeline daily and weekly views, but the basic views are also good options. Try out the different options and see what works best for you. Our software has no limitations and if your business grows, we can expand the options in the system for you too.
OutSmart: more than a digital online planning board
OutSmart once started as a work order app for digital work orders (replacing work slips and voucher books) It still is, but in the meantime, we have grown into something you can call workflow software: the entire workflow of companies with a field service is collected, recorded and managed in one place with OutSmart. We are, for example, a widely used all-in-one package in the construction, refrigeration, cleaning, transport, and many other industries.

So OutSmart is not just a digital planner but can help you in even more areas to keep your projects running smoothly and your inside and outside sales staff working together efficiently and smoothly. Start using an efficient planning programme now too.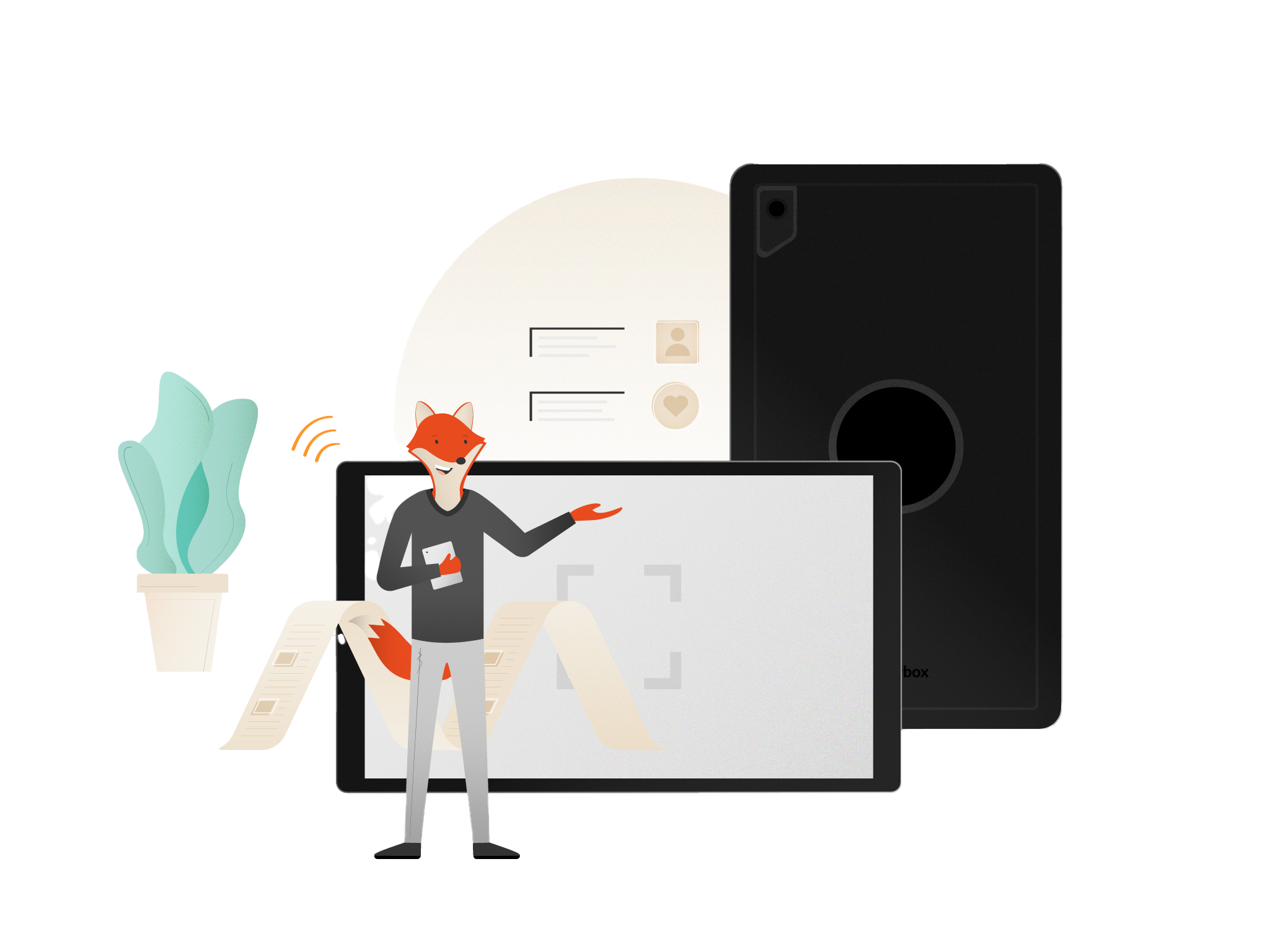 Useful features for your inside employee force
OutSmart offers your inside sales staff, for example:
The ability to import or enter relations and articles
Automatic appointment confirmations and email reminders for your customers
Tools to manage subcontractors
One or more customised PDFs
Digital work schedule creation for field staff
Especially for field service
Your field staff have in the app:


A time clock function
An overview of items and relations that is automatically synchronised
The ability to create work orders and time sheets for projects
Time registration and other registration options for materials
Automatic time registration directly from the created work orders
A function for kilometre registration
The ability to add photos of their work to work orders
Complete history of customer relations
Want to try OutSmart's digital planning board for free?
Are you curious about how you can plan more easily with a smart digital planboard? At OutSmart, you can try digital planboard software for free. In addition to the digital planboard software, you will get much more and be introduced to digital work orders, an app for field staff and our other useful features that allow your field and office staff to work together efficiently.

Does a free trial sound like music to your ears?
Then sign it up immediately! We do not ask for your account details and you are not tied to us.